---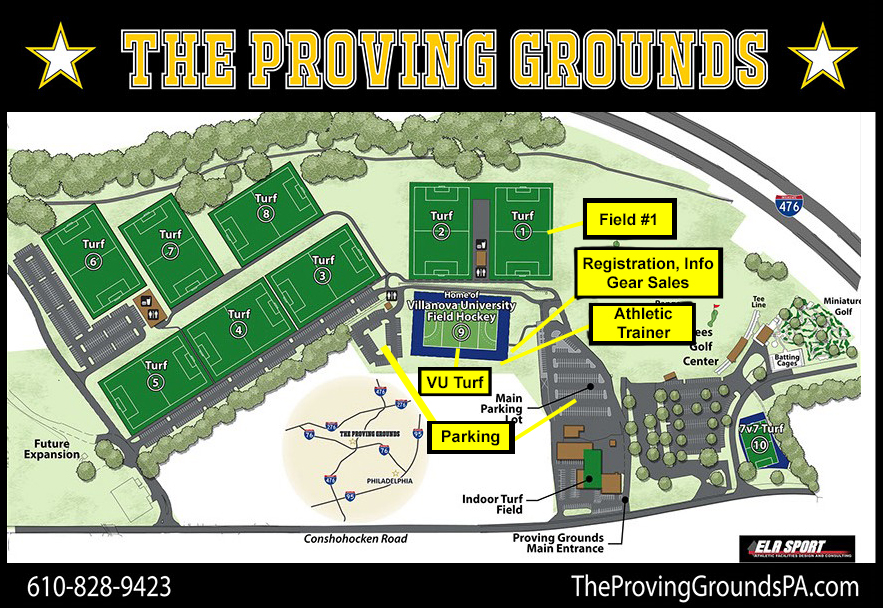 THE PROVING GROUNDS MAP & FACILITY RULES
FACILITY RULES:
1.  NO PETS PERMITTED AT THE FACILITY
2. NO OUTSIDE FOOD AND BEVERAGES PERMITTED- PLAYERS AND REFS ARE ALLOWED TO BRING 1 WATER BOTTLE
3. NO GUM, NO SEEDS, NO TOBACCO AT THE FACILITY
4. NO OFFENSIVE LANGUAGE OR GESTURES
5. PUT TRASH IN DESIGNATE TRASH CANS
6. THIS IS A NON-SMOKING FACILITY, NO E-CIGARETTES
7. PREMISES UNDER VIDEO SURVEILLANCE
8. IN CASE OF EMERGENCY DIAL 911
9. CHILDREN MUST BE SUPERVISED AT ALL TIMES
10. RUDE, INAPPROPRIATE, AND DISRESPECTFUL LANGUAGE WILL NOT BE TOLERATED AND WILL RESULT IN FACILITY EJECTION
---
DIRECTIONS & PARKING
The Proving Grounds
725 Conshohocken Road
Conshohocken, PA 19428
See Facility Map Above: Enter The Proving Grounds through the main entrance on Conshohocken Road.  You may park in either the main parking lot or we have also designated the parking lot just past the VU turf for field hockey only and you may park there (about 80 spots).  There is no charge for parking or to enter the event.
---
HOTELS, RESTAURANTS & TRAVEL RESOURCES
This is a STAY TO PLAY Event.  All non-commuting individuals participating in the NPC MUST (as a condition of acceptance) make all hotel accommodations using our tournament housing services.  Please do not call the hotels directly. Please book through the hotel reservation links below. We appreciate your support as these partnered hotels assist in sponsoring our event.  LEARN MORE/BOOK A HOTEL THROUGH HBC EVENT SERVICES
Valley Forge and Montgomery County are home to the best dining around. You'll find all of your favorite restaurant brands in King of Prussia, while our small towns like Ardmore, Jenkintown and Skippack have incredible independent restaurants, diners and cafes. Browse over 120 of our favorites and book your table now via the VALLEY FORGE SPORTS RESTAURANT SEARCH TOOL
Search Things-To-Do in the area, including events, shopping, trails, and more: WWW.VALLEYFORGE.ORG
---
REGISTERED ATHLETE LIST
View the registered athlete lists along with your groups and team:
---
REFUND POLICY
The National Player Combine does not offer refunds for any reason, with the exception of a player's injury or illness.  A refund (minus a $50 administrative fee) will only be considered with a certified doctor's letter submitted up to 4 weeks prior to the event.  Up to 2 weeks prior to the event a 50% refund will be issued.  No refunds will be issued within 2 weeks of the event.
---
WHAT TO BRING
All athlete's must bring a stick, mouthguard, shinguards, water bottle and sunscreen.  Goalkeepers must bring their own equipment.  Cleats are NOT allowed on the Villanova University turf field.  Turf shoes are the recommended footwear.
Reversible Jerseys are Navy Blue and White.  Please bring a pair of Navy socks and White socks to wear for your full field games.
Athletes and families may bring pop-up tents for shade throughout the weekend.
Absolutely NO pets allowed at the facility.
---
ATHLETE CHECK-IN
All athlete's must check-in at the Registration Table between 5:15-6:00PM the night of their physiological assessment session.  We will hand out reversible jerseys (and GK jerseys).  We will not be able to exchange reversible jerseys for different sizes due to the unique uniform # you will be given in all of our info and forms.  These will be the size you ordered with your event registration.  There is no waiver to hand in- you completed that online with your registration.
---
ATHLETIC TRAINER, WATER & ICE
An athletic trainer will be available at the Athletic Trainer Tent through all sessions.
Athlete must bring their own water bottle to use throughout the weekend (please make sure your name is on it).  We will have refilling stations as well as some Gatorade.  Ice will be available at the Athletic Trainer Tent.
---
WEATHER PROTOCOL
The Event Directors along with the Athletic Trainer will monitor and make decisions regarding any potential weather issues.  Sessions will go on as scheduled through rainstorms.  We will communicate any updates and changes to the schedule if necessary via the website homepage www.nationalplayercombine.com, our coaching staff, and they will also be posted at the Registration Table.  No refunds will be granted for missed sessions due to inclement weather.
---
EVENT SCHEDULE
The Event Schedule has been posted on each Session Details page:      Session #1     Session #2
See the Registered Athlete List at the bottom of the page to see which groups and team you are a part of.  We wait until the week before each session to post groups/teams so we can adjust for cancellations/injuries and still make balanced groups/teams.
---
PHYSIOLOGICAL ASSESSMENTS
Athletes should be prepared to perform the outlined physiological assessments: PHYSIOLOGICAL ASSESSMENTS
---
PLAYER EVALUATION
Each athlete will receive a comprehensive NPC Athlete Profile that will cover all areas of the weekend: physiological, skills, small game play, full field game play, and more.  The Player Evaluation is created as a tool for development: providing athletes with an understanding of where they are at in all areas of their game, what their strengths are and areas they can improve.  We will be compiling data by class and sharing it so athletes can see how they compare to their class as a whole.  This will enable athletes to see where their skills/game may need more work to hit the average or to move them to the top of the class. Athletes profiles will include if their scores are in the Top 1/3 of performers for their class for each physiological assessment and skills combine assessment.
We will email instructions on how to access your NPC Athlete Profile following each session.  You do not need to create an account.  We do it all for you.
---
FULL GAME VIDEO FOOTAGE
We have partnered with CruitCast to provide full field game footage.  All athletes will have access to the professional full game video footage throughout their session to view or download for your personal use.  This video footage is included in the NPC fee.  You do not have to pay extra.  Once the video is ready (within 7 of the event, although usually ready within 3-5 days), we will send out an email with instructions on how to access it.
---
STILL HAVE QUESTIONS?  Email us at [email protected]